Diamond Alkali Tank Car 271
Diamond Alkali Company was formed in 1910 to produce soda ash for the glass industry. In 1912 the Painesville, Ohio site was developed. In 1929 the Painesville plant started to manufacture caustic soda by the electrolysis of salt. This produced both chlorine and hydrogen. The chlorine was used to purify water and in the dry cleaning solvent industry. In the 40's Diamond Alkali had an agreement with the U.S.Army for chlorine. Also in the Painesville area several detergent plants were established.
These events made it necessary to obtain tank cars to move the chlorine. This car was built 3/22/39. The cars were numbered 268 to 285. They were Class ICC 105 A 300 and had a capacity of 80,000 lbs. The ICC limited the load in chlorine cars to 60,000 lbs. They were repainted at least 3 times. Once between 1949 and 1952, with their new big red diamond. A second time in the late 50's or early 60's with a blue swirl around a small solid red diamond. The last repainting was in the late 60's with an enlarged version of the 60's herald. In the 1965 cars 268, 270 and 271 were still in service.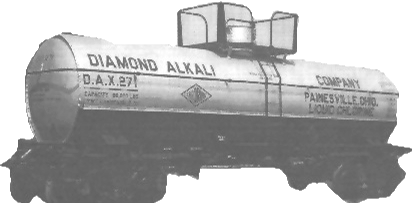 Original prototype