N Scale Hopper Car
Division 5, Mid Central Region NMRA is offering a prototype N scale hopper car for sale. This two-bay, offset side hopper is the same car that was available as the "convention car" at the recent NMRA National Convention in Cleveland this July----without any convention logo, so it will look perfectly at home on your layout and in your hopper fleet! Produced by Atlas.
Click on image to toggle larger size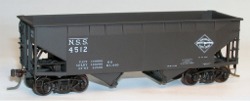 Newburgh & South Shore (NS & S)
The Newburgh & South Shore (NS & S) had 18 hoppers numbered 4500-through 4517. Capital stock was held by US Steel and the road primarily operated to serve five steel plants and 40 other businesses along the road's six miles of double track in Cleveland's "Flats" and eastside industrial district. The N & SS Railway interchanged with the B & O, Wheeling & Lake Erie, River Terminal, Cuyahoga Valley, Erie, Pennsylvania, and indirectly with the Big Four and the NYC. Source history and photographs used to recreate this car appear in The Lake Terminal Railroad book by Jeffrey D. Brown.
Pricing
Three pack (three numbers) $42 plus $6 S&H
Contact
Ted Wiese
Email
Make checks payable to
NMRA MCR Division 5